If you read my recent blog post on how to use PowerPivot instead of VLOOKUP, then you probably know that I am pretty excited about PowerPivot.
It is an amazing tool that will help you analyze your data in new ways.  As your data sets and workbooks grow, you will need new tools to make it easier to work with your data.
Fortunately, Microsoft has developed the PowerPivot add-in to help us with some of these issues.  PowerPivot provides endless ways to analyze our data and produce incredible results.
These new business intelligence tools are the way of the future, and learning them will really benefit your organization and your career.  This is a skill set that will be in high demand in the future.
All these new tools and skills means there is a lot to learn.  I have spent a lot of time learning and using PowerPivot, and I am really excited that there are some new resources available to help you learn PowerPivot quickly.
The PowerPivot Course from My Online Training Hub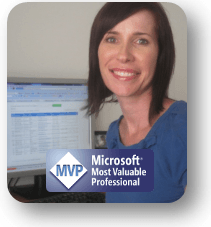 Mynda Treacy from MyOnlineTrainingHub has just released a brand new course on PowerPivot.  I have had a chance to review it, and I think it is excellent!
This is an online video course, which means you can watch the videos at your own pace.
The thing I love the most about Mynda's courses is that the videos are short, usually about 5 minutes in length.  This is great for two reasons:
You don't get overwhelmed with information.  Instead, you focus on learning one topic at a time.  And you can re-watch the video if you don't fully grasp the concept the first time, or need a quick refresher.
You get time to practice.  I believe the only way to truly learn these skills is by practicing the material.  I recommend watching a video, then practicing it on the sample files that Mynda provides.  If you can practice on your own project or data, then this will help you learn even faster.
I could ramble on about this, but I would rather you use this time to learn something new (PowerPivot).
The Bonus Pack from Excel Campus
Right now I am giving away a bundle of free gifts when you signup for the PowerPivot Course through my link.
Here's what you get:
1. The Tab Hound Add-in Package for Excel ($59.90 value).  Includes:
The Tab Hound Add-in
eBook: Navigate Excel with the Keyboard
Video Series: Navigate Excel with the Keyboard
2. Excel Tables eBook ($9.95 value) A Complete Guide For Creating Using and Automating Lists and Tables, by Excel MVPs Zack Barresse and Kevin Jones
Both of these gifts will help you improve your Excel skills, and are a great compliment to PowerPivot and Pivot Tables.
To get the free gifts you must use the following promotion code during the checkout process for the PowerPivot Course.
Promotion Code: tabs
Here is a list of the instructions in the image above:
Go to the PowerPivot Course Page.
Click any of the Add to cart buttons at the bottom of the page.
Enter the coupon code: tabs at checkout.
*Once your checkout is complete with MyOnlineTrainingHub, I will be notified and send you the bonus pack.  Please allow 24-48 hours for this to happen, as the process is not automated.
Please click the link below to go to the PowerPivot Course page.
Click Here to Learn More about the PowerPivot Course
Again, use the promotion code tabs at checkout to get the free gifts from me.
Please leave a comment below or contact me with any questions.  I would love to know how your journey with PowerPivot is going.
Thank you!
Jon
*Note: I am an affiliate partner with MyOnlineTrainingHub and make a small commission from any purchases.  You still pay the same price and get free some free bonuses. 🙂